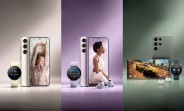 The Samsung Galaxy S23 series is here and it brings a fast new chipset, a 200MP camera with a new sensor for the Ultra, bigger batteries for the other two and, for some regions at least, new prices.
Samsung Galaxy S23 series infographics
The pricing for most regions was announced on Wednesday, details for India came in the day after. While North America avoided the price hike, the rest of the world did not. But everything is getting more expensive and Samsung compensated the price bump by doubling the base storage for the S23+ and S23 Ultra. That's fair – or is it?
In case you…


Article Source: Gizbot